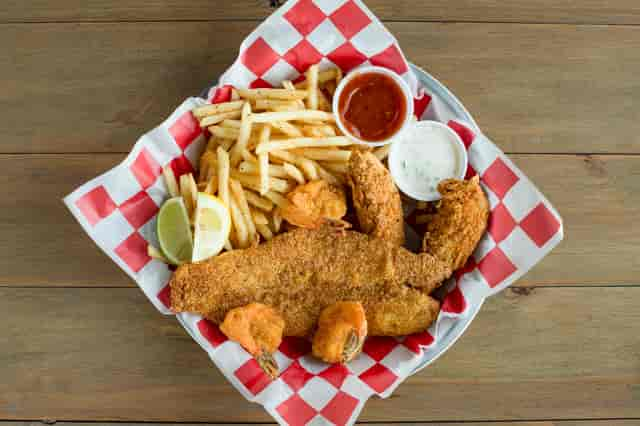 Humble
Humble
One of our next 3 locations coming in 2020! This time 7spice is bringing the Cajun spice to Humble! Opening this summer, be ready to experience Amazing' Cajun!
Become a VIP
Receive updates on special events, new menu items, menu reviews, and more!
Menu
Sides
Add a little extra something to your meal
Indivdual Combos
Fried combos prepared with our recipes of your choice - Served with a side, toast, and dip.
7Spice Tenders
Served with a side, toast, and dip. Add 3 Shrimp to any combo - $3.49 | Add 1 Fish (Tilapia or Catfish) to any combo - $3.75
Blackened
Served on a bed of white rice or dirty rice, toast, and dip. Add Étouffée Sauce (Smother your rice with crawfish or shrimp etouffee) - $3.49 | Add 3 Blackened Shrimp to order - $2.99 | Add 1 Blackened Tender to order - $1.49
Fried & Étouffée
Served with your choice of white or dirty rice, toast, and dip
7Spice Specialties
The house specialties served with toast or crackers
Salads
Mixed greens, tomatoes, cheddar cheese & croutons
Boiled Seafood Combos
Your seafood boiled and seasoned with our famous 7Spice flavors. Served with redskin potatoes and corn on the cob
Seafood by the Pound
Fresh seafood boiled and seasoned with our famous 7Spice flavors
Family Combo
All family combos are only fried. Served with 3 large sides, 5 dips, and 4 toasts
Humble & 59
9473 FM 1960 Bypass Rd. W Ste 250
Humble, TX 77338

Hours
Monday - Thursday:
11:00 am - 10:00 pm
Friday - Saturday:
11:00 am - 11:00 pm
Sunday:
11:00 am - 10:00 pm